D.O.T. Fittings for Truck and Trailer Applications
Truck and Air Brake Hose Fittings for Trailer Applications
Our roads and highways are becoming busier each day, with more and more commercial vehicles on the road requiring an ever increasing need for solutions to help drivers respond to a variety of conditions in today's Compliance, Safety & Accountability (CSA) environment.
Each state has guidelines that are specific to operating a vehicle with air brakes. To become a commercial driver there is extensive training and testing to obtain a license. In the same respect, there are required steps to manufacture and maintain a vehicle to make sure components meet D.O.T specifications. To help ensure road safety, there are some basic steps that should be taken at routine intervals throughout a short or long haul: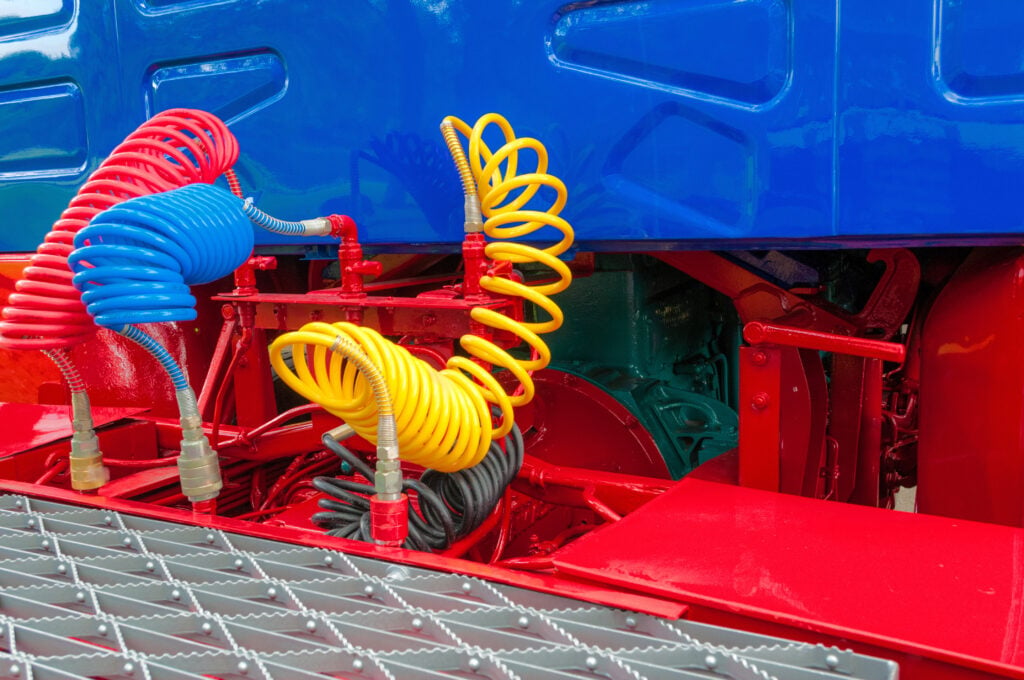 Check that the minimum operating pressure for of the air-brake systems is no less than 100 PSI for a truck and 85 PSI for a bus
Make sure the air pressure buildup rate is two minutes or less to rise from 85 PSI to 100 PSI at 600 to 900 RPM
Ensure the correct cut-out governor pressure for the air compressor is between 120 PSI and 135 PSI, with cut-in pressure at 20 PSI to 25 PSI below
cut-out pressure
Avoid water in the air-brake system, which is caused by condensed air. In colder temperatures ice can block air from reaching the brakes, causing the wheel to lock-up
Many of the newer braking systems have automatic drain valves installed in each air tank to prevent this problem
There are many applications for Department of Transportation (D.O.T.) approved fittings on trucks and trailers. The most common are in air brake lines and transmissions. Depending on the specific application the most frequently used are compression and push-to-connect fitting styles. The differences between compression and push-to-connect fittings are often confused and incorrectly used interchangeably.
In most air brake applications there are distinct advantages of D.O.T. approved push-to-connect fittings over compression fittings. For instance the compact style of a push-to-connect fitting is better suited for installing in confined areas.
Though compression fittings usually cost less than push-to-connect fittings they are not as quick and easy to install. The quick installation, reduced maintenance and less chance of leakage can make up for a higher price of push-to-connect styles. In addition, compression fittings must be installed with tools, which can be time consuming and more difficult in tight spaces. Where push-to-connect fittings are installed or removed easily by using tools only on the pipe thread ends, not on the tube ends, saving time and reducing the possibility of causing damage to surrounding components or equipment. The nut on a compression fitting must
be turned to specifically rated torque to ensure the proper seal, whereas push-to- connect fittings do not have a compression nut. Instead a leak free seal is achieved by easily pushing the fitting onto the tube or hose.
And compression fittings often need to be retightened to stop a leak. This can cause crimping or distortion of the tube, which increases the chance of future leaks. However, push-to-connect fittings rarely require adjusting after installation to be leak free.
Though that does not rule out certain advantages of compression fittings. Their availability in more configurations and sizes is a major plus, and some compression fittings can provide a higher pressure rating than the same size push-to-connect.
Properly designed compression and push-to-connect fittings both meet or exceed D.O.T requirements. In order to ensure the proper fitting selection for a specific application it is important to confirm: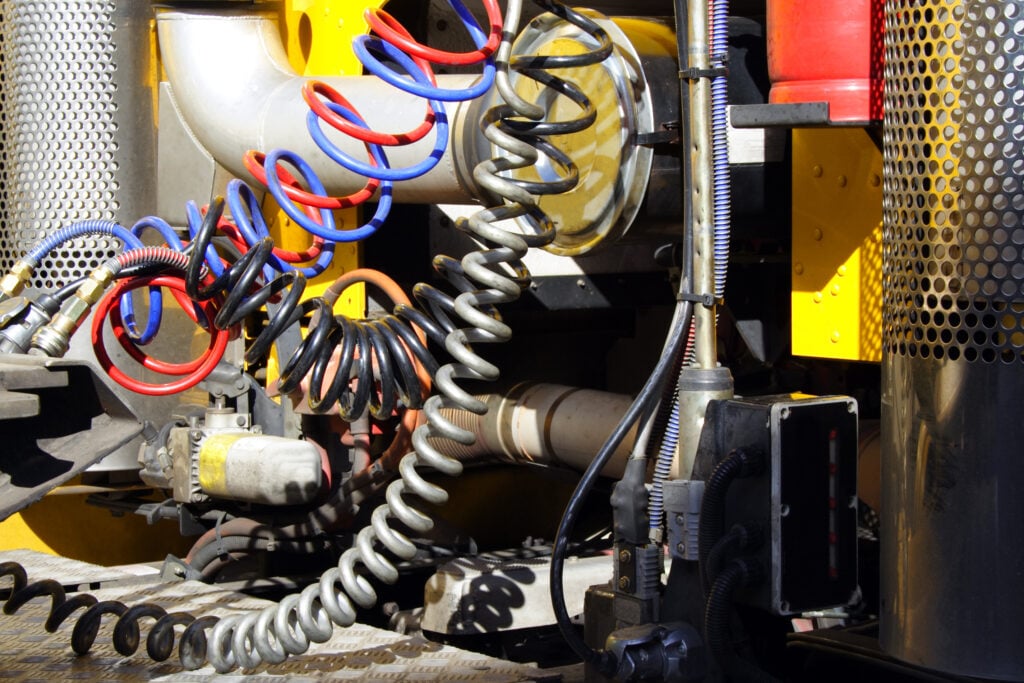 Required PSI (pounds per square inch) pressure rating
Type and material of tube or hose for compatibility with the fitting
For maintenance applications refer to the owner's manual for the specific application
Brass Fittings in Truck & Trailer Applications
Truck and trailer OEMs use brass fittings for many applications because of their corrosion resistance, strength, machinability and ability to withstand cold and high temperature variations. Brass is also light weight and low cost compared to stainless steel or other materials. These components are commonly used in on heavy trucks that require fittings which meet D.O.T. and SAE specifications in applications such as:
AIR BRAKE SYSTEMS
AIR TANKS
COOLING SYSTEMS
ENGINE COMPONENTS
CAB CONTROLS
TRANSMISSIONS & FUEL LINES
Tractor-Trailer Air Brake Systems
The following provides detail of applications and specifications of common compression and push- to-connect fittings used in the manufacturing and maintenance of air brake systems for heavy equipment and trucks.
AIR BRAKE COMPRESSION FITTINGS
• Brass body
• Compatible with copper or SAE J844 Type A & B Nylon air brake tubing
• FEATURES & BENEFITS: Electrolysis nickel plated bodies can be used with bio-diesel
• Male pipe, Female pipe, SAE straight thread
• Meets D.O.T. FMVSS 571.106 when assembled with applicable tube support and SAE J844 nylon tubing, also approved to SAE J246
• Specified up to 400 PSI
AIR BRAKE PUSH-TO-CONNECT FITTINGS
•   Brass fitting with applicable tube support
•   Compatible with SAE J844 Type A & B nylon tubing
•   FEATURES & BENEFITS: Quick installation, reduced maintenance and less chance of leakage
•   Male pipe available in both fixed or swivel ends, Female pipe, SAE straight thread
•   Specified up to 250 PSI
•   Meets SAE J2494 and D.O.T. FMVSS 571.106 air brake specifications for available sizes of 1/4" to 1/2". Stainless steel tube support for maximum flow for SAE J3494-3 requirements.
TRACTOR TRANSMISSION FITTINGS
•   Brass body materials
•   Compatible with SAE J844 Type A & B nylon tubing
•   FEATURES & BENEFITS: A slotted sleeve designed specifically for transmission applications facilities in eliminating notch stress if over-torqued. These fittings are specifically used in pressure protected air transmission applications.
•   Male pipe thread
•   No specific approvals required by the D.O.T. for vehicle use
•   Specified up to 500 PSI
D.O.T. Rubber Air Brake Assemblies
In the heavy truck aftermarket sometimes mechanics will use hydraulic hose for air brake applications because they are rated at a much higher pressure than air brake hose. Yet this is not necessarily safer and air brake hose assemblies must meet specific D.O.T. requirements that specify adequate working pressure to assure consistent safety across a variety of heavy truck applications. For vehicles operating on public roads and highways air brake systems must pass a series of tests prescribed by the National Highway Traffic Safety Administration (NHTSA) to meet the required D.O.T approval. The most popular pre-assembled D.O.T. rubber air brake assemblies are: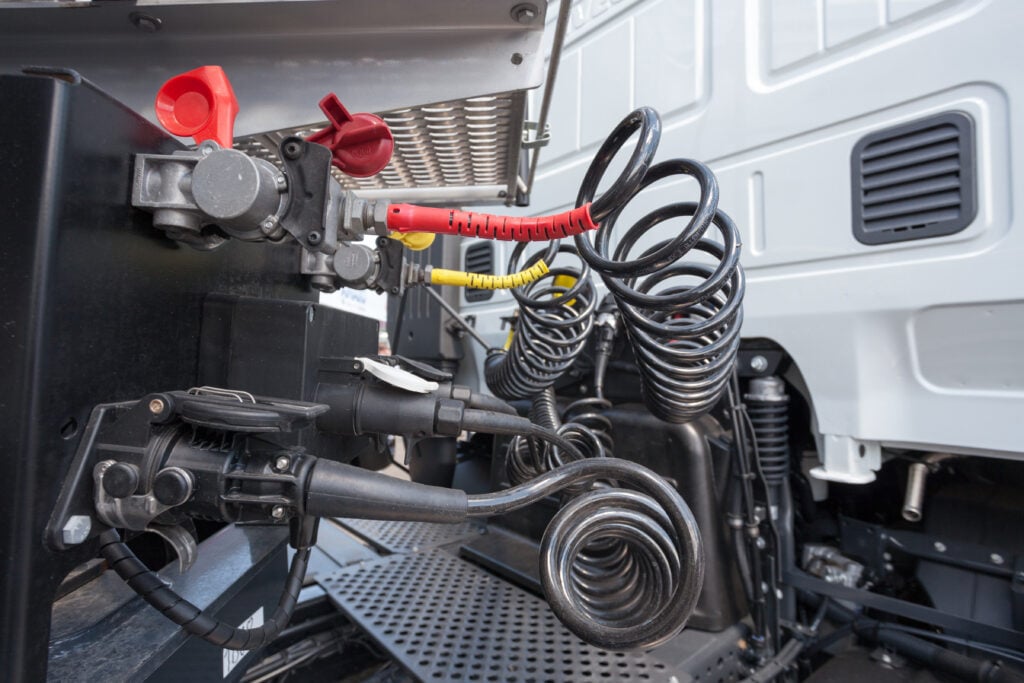 AVAILABLE IN VARIOUS HOSE LENGTHS, TYPICALLY FROM 14" TO 96"
PREASSEMBLED WITH BRASS FITTING CONNECTIONS:
3/8 I.D. Hose C/W 1/4 MPT Swivel x 1/4 MPT Fixed
3/8 I.D. Hose C/W 1/4 MPT Swivel x 1/4 MPT Swivel
3/8 I.D. Hose C/W 3/8 MPT Swivel x 3/8 MPT Fixed
3/8 I.D. Hose C/W 3/8 MPT Swivel x 3/8 MPT Swivel
1/2 I.D. Hose C/W 1/2 Female Flare Swivel on Both Ends
1/2 I.D. Hose C/W 3/8 MPT Swivel x 3/8 MPT Fixed 
1/2 I.D. Hose C/W 3/8 MPT Swivel x 3/8 MPT Swivel
GREASE WHIP ASSEMBLIES – SAE100R1 HOSE:
Available in lengths from 8″ to 36″
3/16 x 1/8 MPT Both Ends
D.O.T. Reusable Air Brake Hose Fittings
Reusable air brake hose fittings which meet D.O.T specifications incorporate hose ends that attach hoses to other components of the air brake assemblies and have the following specifications and features & benefits:
Brass body material capable of withstanding -40°F TO +120°F (-40°C TO +48°C)
FEATURES & BENEFITS: Used for virtually any air brake hose line and ease of assembly with proper selection of hose ends
Provides excellent corrosion resistance
Male pipe thread
Meets SAE & D.O.T. specifications, D.O.T. H3380 for brass fittings
Specified up to 125 PSI as determined by maximum working pressure of the hose size
D.O.T. Rubber Air Brake Assemblies
Hose assemblies for air brakes must be clearly marked "D.O.T." on the hose layline and on all fittings.
To be in compliance and to legally run your vehicle on the roadways it is necessary the air brake hoses are tested to perform in many different conditions which occur on and around the vehicle's air brake systems, which includes more than just pressure ratings. The list below reflects test areas that D.O.T. air brake hoses must pass in order to obtain approval:
ADHESION
CHANGE IN LENGTHS
CONSTRUCTION
CORROSION RESISTANCE AND BURST STRENGTH
FITTING CORROSION RESISTANCE
FLEX STRENGTH AND PRESSURE CYCLING
INTERNAL CLEARANCE
OIL RESISTANCE
OZONE RESISTANCE
RESISTANCE TO COLD TEMPERATURES
RESISTANCE TO HIGH TEMPERATURES
RESISTANCE TO ZINC CHLORIDE
TENSILE STRENGTH
TENSILE STRENGTH DURING WATER ABSORPTION

All D.O.T. approved hose and fittings have the D.O.T. designation on the product.
Tractor-Trailer Air Brake Systems & Glad Hand Couplings
Starting with the trailer is the best way to understanding the principals of tractor-trailer air brake systems. Once you understand the trailer system, it becomes simpler to understand how many of the components used to pull a trailer are the same found on the tractor, such as:
AIR CHAMBERS
AIR RESERVOIRS
CONTROL VALVES
FOUNDATION BRAKES
An air compressor is the only primary component found on the tractor that is not used on the trailer. The trailer system depends on the tractor for two important functions:
1.   The compressed air from the tractor is used to fill the trailer reservoirs
2.   The commands to apply and release the brakes are sent from the tractor to the trailer
There are two air line connections between the tractor and the trailer. To actuate the breaks on the trailer the supply line (or emergency line) provides the trailer reservoirs with air at full tractor reservoir pressure. The control line (or service line) is what sends the signal from the tractor to the trailer, telling the breaks when to actuate and with how much pressure. Because tractors and trailers are frequently disconnected and reconnected when switching tractors or dropping (parking) trailers, the airlines have special quick coupling called "glad hand" couplings which must meet SAE and D.O.T. specifications. They are used to disengage and reattach the airlines and are referred to as glad hands because both portions of the connections resemble hands making a handshake. Glad hand couplings have an aluminum body with a steel face or are made of cast iron. The steel face style is zinc yellow dichromate with an aluminum body that is chromate conversion coated for corrosion resistance. These connections are typically color-coded blue and red, with blue signifying the control line and red the supply line.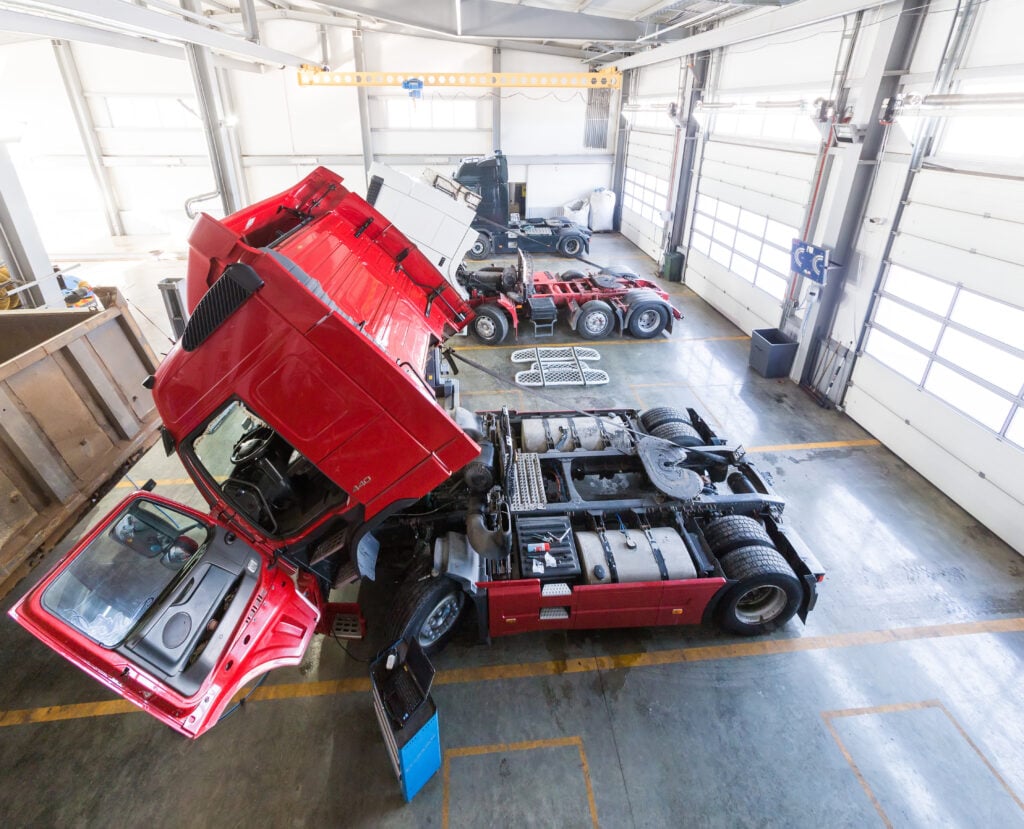 As stated in the guidelines of Federal Motor Carrier Safety Administration, D.O.T. section 393.45 brake tubing and hoses; hose assemblies and end fittings must follow:
(a) General construction requirements for tubing and hoses, assemblies, and end fittings. All brake tubing and hoses, brake hose assemblies, and brake hose end fittings must meet the applicable requirements of FMVSS No. 106 (49 CFR 571.106).
(b) Brake tubing and hose installation. Brake tubing and hose must— (1) Be long and flexible enough to accommodate without damage all normal motions of the parts to which it is attached; (2) Be secured against chaffing, kinking, or other mechanical damage; and (3) Be installed in a manner that prevents it from contacting the vehicle's exhaust system or any other source of high temperatures.
(c) Nonmetallic brake tubing. Coiled nonmetallic brake tubing may be used for connections between towed and towing motor vehicles or between the frame of a towed vehicle and the unsprung subframe of an adjustable axle of the motor vehicle if (1) The coiled tubing has a straight segment (pigtail) at each end that is at least 51 mm (2 inches) in length and is encased in a spring guard or similar device which prevents the tubing from kinking at the fitting at which it is attached to the vehicle; and (2) The spring guard or similar device has at least 51 mm (2 inches) of closed coils or similar surface at its interface with the fitting and extends at least 38 mm (11⁄2 inches) into the coiled segment of the tubing from its straight segment.
(d) Brake tubing and hose connections. All connections for air, vacuum, or hydraulic braking systems shall be installed so as to ensure an attachment free of leaks, constrictions or other conditions which would adversely affect the performance of the brake system.
SOURCES:
Bendix Commercial Vehicles Systems, LLC
Brennan, Inc.: Versa Fittings
Bryan Hose & Gasket Hendrickson USA, L.L.C.
Titan Pneumatics, Inc.
U.S. Department of Transportation:
Federal Motor Carrier Safety Administration
Yukon Department of Highways and Public Works