Brennan Manufacturing Group: Canada
290 Courtneypark Drive East
Mississauga, ON – L5T 2S5
Phone: (905) 564–2600
Toll free phone: (866) 832-8372
Fax: (905) 564-2619
Toll free fax: (800) 567-2537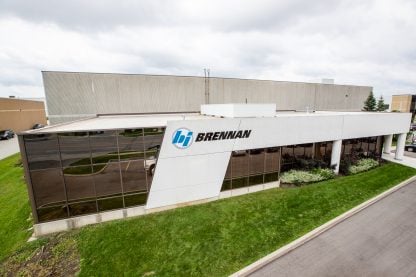 Since 1953, Brennan has provided customers throughout the world with the highest quality critical flow components. Now, this local Brennan Canadian manufacturing expertise is available to you.
Our components rise to the standard of industries demanding quality and precision, such as HVAC, pharmaceutical, automotive, and industrial plumbing applications; a standard we apply to any industry. Our state-of-the art equipment consistently achieves the highest level of precision, whether starting from various cross section bars, plate, or tubing up to 8" diameter, with tolerances as tight as +/- .001". We engineer extraordinary results for all our customers, every single day. That is our kind of art.
Along with precision machining, we offer welding, ultrasonic flow testing and prototyping services based on customer requirements, giving customers the convenience and efficiency of a sole trusted source.
Brennan's Canadian Manufacturing Team of skilled technicians are about more than form following function. They continually improve our processes, analyzing the flow of the manufacturing environment, enhancing the experience for our industry partners. We are confident we can support your business needs, and are well positioned to provide you solutions.
Manufacturing Equipment Overview
10 Brown & Sharpe Single Spindle Automatic Screw Machines

2 @ 3/4" Rd. capacity

7 @ 1-5/8" Rd. capacity
1 @ 2" Rd. capacity
4 Fanuc Controlled CNC Machines

1 FEMCO DURGA – 2" Cap, 2 Axis Turret, 12 ft. bar feed automatic lathe

3 MIYANO – 8" Cap, 3 Jaw, 2 Axis chucking lathes
Assorted Machinery For General Use

1 Busy Bee Engine Lathe

1 Vertical Band Saw
3 Pedestal Grinders
Fabrication & Secondary Operation assorted Machinery

2 Brown & Sharpe #2 Turret Lathe Hand Screws

1 Herbert #2 Turret Lathe Hand Screw
1 Herbert #1 Turret Lathe Hand Screw
1 Hardinge Turret Lathe Hand Screw
1 Iduma Milling Machine
1 Brown & Sharpe Horizontal Milling Machine
8 Assorted Drill Presses
1 Combination Band & Disc Sander
1 Horizontal Band Saw
1 Rothenberger Pipe Threader
1 55 Ton Iron Worker
1 55 Ton Hydraulic Press
1 Lincoln Electric Mig Welder 1 Oxy Acetylene Torch
1 ACME Gridley Six Spindle Automatic Screw Machines

Wash & Assemble Equipment
Rotary (Drum) Parts Washer
Ultrasonic Parts Washer
Sealant/Teflon Tape Wrapping Machine

5000 lb. capacity HYSTER Material Handling
Assorted Ring, Plug, Pin, Block, Snap Guages & Fixtures
Assorted Vernier & Micrometer Calipers
Profile Projector